Welcome to the BBWFacesitting.com Smother Store!
For questions regarding shipping, pay pal, etc., please see the site faq's.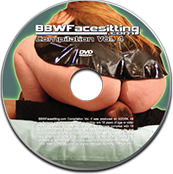 Description
Compilation 04 features Mistress Kim and the popular "Carnival Segment", Miss Rider, Lady Sara and Monique (using her gigantic breasts to smother) in some of the best smothering and reverse sitting we have ever done. If you are a fan of a nice big round ass reverse sitting full weight then this is a DVD you will definitely want to add to your collection.
Starring:
Mistress Kim, Miss Rider, Lady Sara & Monique

DVD Order Form
17.1 KB

If you prefer to order by mail, please download the DVD Order Form pdf. You will need to print, complete and sign the DVD Order Form.

To order using PayPal please Contact Us for more info.