Welcome to the BBWFacesitting.com Smother Store!
For questions regarding shipping, pay pal, etc., please see the site faq's.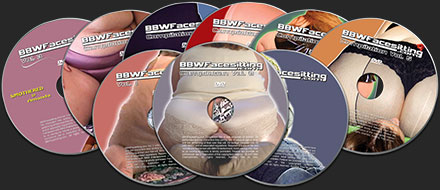 Description
Want all 9 DVD's? Save big on "The Ultimate Smother Bundle". BBWFacesitting Compilation Vol. 1-6 & Vol. 1-3 at a "breathtaking" price.
Starring:
Mistress Kim, Amazon Amanda, Amazon Amber, Amazon Kitty, Miss Sunny Love, Miss Rider, Miss Smother Buns, Lady Sara, Monique, Samiyah & Female Seats Summer, Jocelyn, Alexia & Maia

Details
Running Time: 9+ Hrs.
Price: $174.95 USD
Region Code: None
Format: DVD NTSC
Availability: In Stock


DVD Order Form
17.1 KB

If you prefer to order by mail, please download the DVD Order Form pdf. You will need to print, complete and sign the DVD Order Form.

To order using PayPal please Contact Us for more info.