Welcome to the BBWFacesitting.com Smother Store!
For questions regarding shipping, pay pal, etc., please see the site faq's.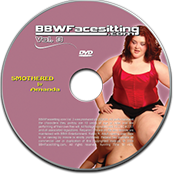 Description
Amazon Amanda who stands 6'3" and weighs a breathtaking (literally) 380 lbs doesn't take kindly to one of her subjects showing up late for a session. Floor quickly learns not to get on Amanda's bad side as he is smothered, trampled, head scissored and much more as only Amazon Amanda can. From beginning to end Amanda has her way with Floor.
Starring:
Amazon Amanda & Floor

DVD Order Form
17.1 KB

If you prefer to order by mail, please download the DVD Order Form pdf. You will need to print, complete and sign the DVD Order Form.

To order using PayPal please Contact Us for more info.